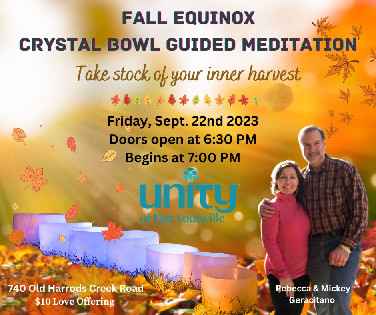 CRYSTAL BOWL MEDITATION CEREMONY
Rebecca and Mickey Geracitano are planning on monthly Crystal Bowl Meditation ceremonies at Unity of East Louisville.
There is no longer any restriction for number of attendees, and registration is not required.
We try to follow the latest COVID conditions and recommendations.
Click here for Scheduled Dates and Themes
The event will also be available via live online streaming for those who are unable to attend in person.
To view online at event time or later, click this link https://www.unityofeastlouisville.org and click Livestream in the upper right corner.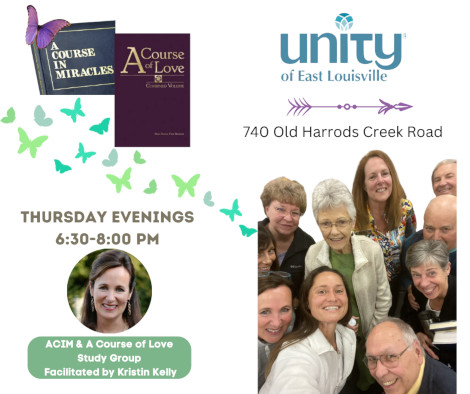 COURSE IN MIRACLES
Are you interested in studying the wisdom of Jesus' teachings?
Please join us on Thursday evenings from 6:30-8:00 pm.
Click here for details, dates and locations 
    Questions? Contact Kristin Kelly 502-418-6764.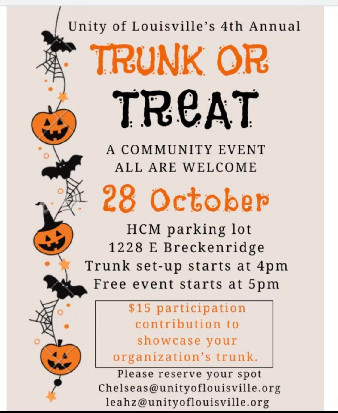 Trunk or Treat
Join us for some Halloween fun on October 28th at 5:00.  
This year's event is being held at Highland Community Ministries Parking lot on 1228 E. Breckenridge.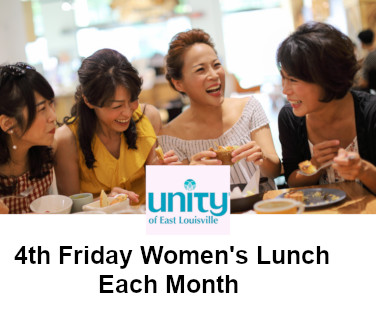 4th Friday Women's Lunch
Join us at the women's lunch on the 4th Friday of each month.
Have some fun and and connect with your Unity friends.  
Please be sure to reserve your place by either clicking here or signing up at the back of the church so you can be sure to have a seat.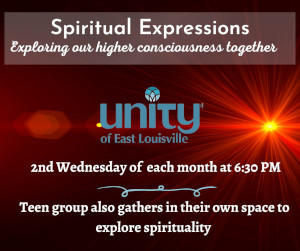 Spiritual Expressions
Spiritual Expressions help us to experience connecting to our inner Sprit.  Join us on the second Wednesday of each month as we explore our higher consciousness. 
Click here for more information
Teen Gathering same time and place
Youth ages 11-13 & 14 -18 gather to express and experience spiritual awareness, through prayer, various meditation styles, drumming, dancing, hikes, spiritual discuss or other creative expressions.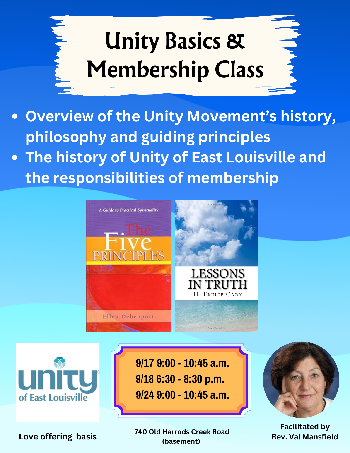 Unity Basics Membership Class
If you would like to become a member this class is an opportunity for you.  It is facilitated by Rev Valerie who has had years of experience in Unity so you will be in good hands.
Click here to see dates and other details.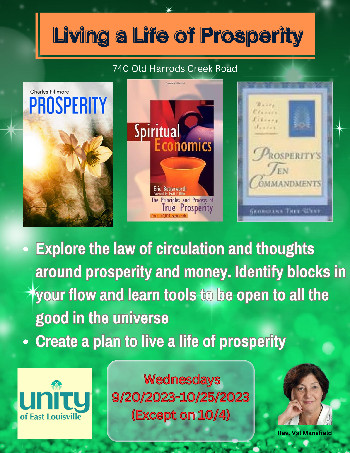 Living a Life of Prosperity
Come join us for lessons in creating prosperity in your life.  You will explore prosperity in not only money but in all facets of your life.
Click here for details and to learn how to open your life to all the good that is here for you.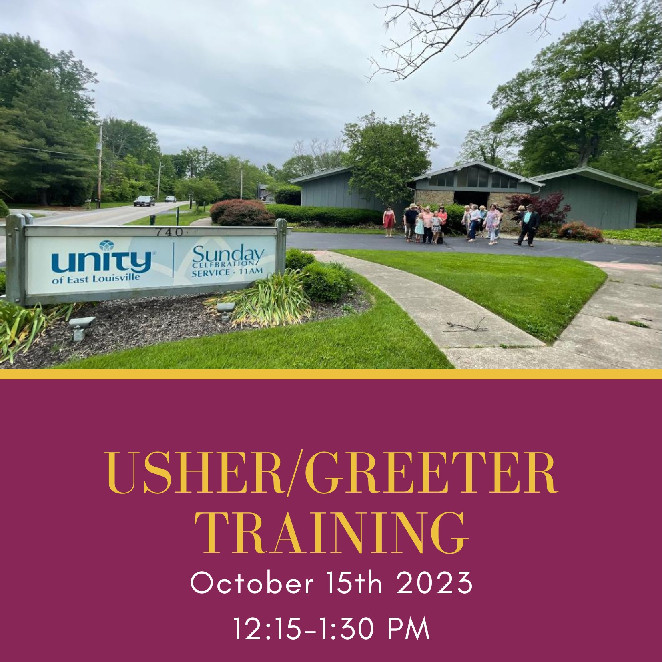 Usher/Greeter Training
Come learn about being the first contact of people as they enter our church home.
October 15th 12:15 - 1:30
After our Sunday Service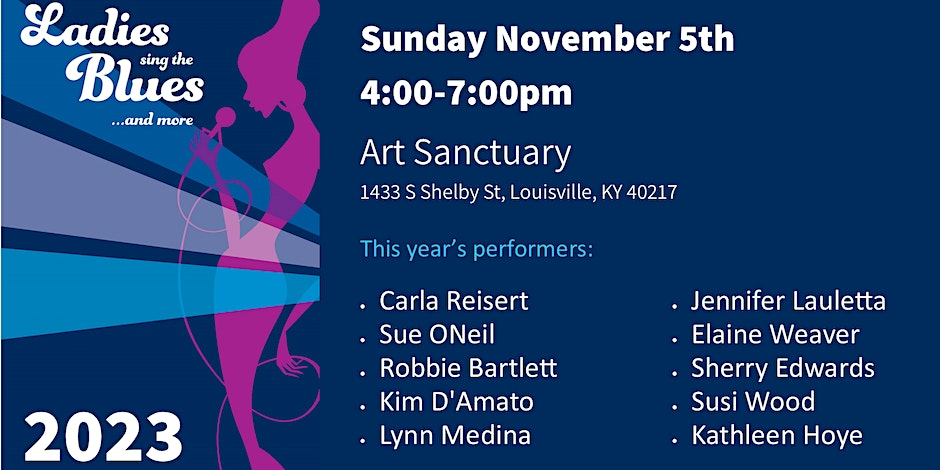 Ladies Sing the Blues
Get more details and buy tickets by clicking below:
https://www.eventbrite.com/e/ladies-sing-the-blues-2023-tickets-706999884687
Tickets are $30 and you can get them also from the Facebook link.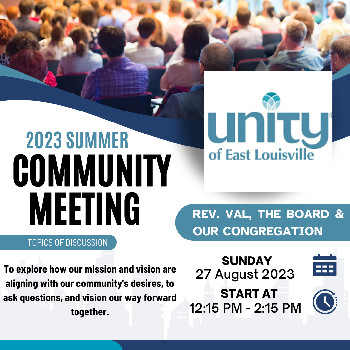 Community Meetings with the the church leaders
November 12
       12:15 - 2:15 After the Sunday Service
These are opportunities for the congregation to come together with the Board of Trustees and the Minister to ask questions and receive clarity on what is happening in the community. As we travel this journey together we define Unity of East Louisville and ensure our mission and vision are in alignment with the community's desires.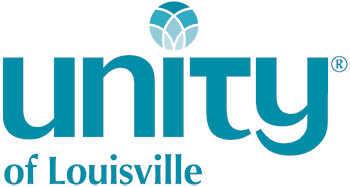 Opportunities from Unity of Louisville (the other Unity church)
We want to make you aware of opportunities that are available from Unity of Louisville as well as from our church.  Please click on unityoflouisville.org to find out what's happening there with classes, events, or other opportunities.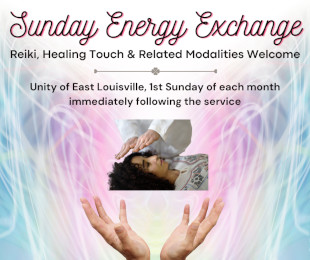 If you are in need of healing, you might want to join us on the first Sunday of each month after our regular church service 12:15 - 12:45 for a 
Sunday Energy Exchange
It will be held at Unity located at 740 Old Harrods Creek Rd in Louisville 
Energy Healers will join together to do hands-on energy healing, using various modalities such as Reiki, Chakra Healing, Quantum Healing, Touch Healing and Unity Prayer.  Individuals sign up for 10 minute sessions.
Love Offering 
If you have questions, contact Rev. Valerie Mansfield, a Reiki Master  at
minister@unityofeastlouisville.org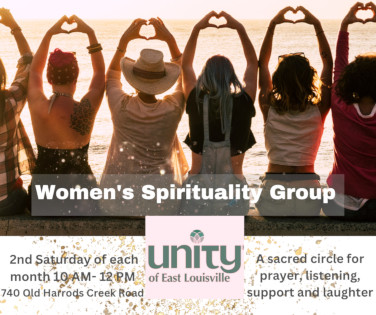 WOMEN'S SPIRITUALITY GROUP
We meet on the second Saturday of each month from 10:00 - 12:00.  It will be at the church (740 Old Harrods Creek Rd).
 
Women creating a sacred spiritual circle for prayer, listening, support, laughter and tears are welcome. Each month we explore a topic through various learning styles to enhance the experience of spiritual growth and enhancement of our lives. The group participants are encouraged to lead an activity, prayer, meditation or share a reading.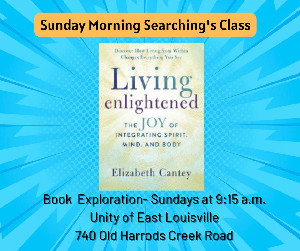 Sunday Morning Searching' s Class
9:15 a.m.
Living Enlightened: The Joy of Integrating Spirit, Mind, and Body" by Elizabeth Cantey
Living Enlightened presents an integrative path to transcending the ego releasing preconceived ideas, letting go of fears and resentment, and allowing ourselves to become fully immersed in the preset moment. As you shift to the joy, peace, wealth and prosperity, overwhelming love and divine intuition, you'll know you have moved to a new home--only now you'll ge in alignment with the All There Is. 
Join us Sunday mornings at 9:15 a.m. and discover how living from within changes everything you see.